SILENT KEY                                 It is with Sadness:                                SILENT KEY
Harold 'Holly' Paul Hollenbach – W3QN
June 9th, 1923 – May 24, 2018
Harold Paul Hollenbach, born June 9th, 1923 in Slatedale, PA, was the son of the late Charles R. Hollenbach and Florence (Schleicher) Hollenbach of Allentown, PA.
.
He is survived by his wife of 70 years, Margaret Louise Hollenbach; one brother Thomas Hollenbach and wife Claudia of Allentown, PA; one sister Louise Wieder of Perkasie, PA and a brother Charles (Bud) Hollenbach also of Perkasie, PA, both deceased. He is also survived by three children: a son Craig and wife Aledra Hollenbach of Hamilton, VA; a daughter Lynn and husband Dan of Buford, GA; and a son John and wife Brenda of Hummelstown, PA; plus 8 grandchildren and 11 great grandchildren.
.
Harold was a graduate of Allentown High School, class of 1941. After high school he worked two years for Bethlehem Steel, Bethlehem, PA before being inducted into the army in August 1943.
.
Harold was a World War II Army veteran and a Purple Heart Recipient, having served in the European theatre.
.
After the war, he was employed by Bell Telephone of PA for 33 years.
.
He was a member of the Telephone Pioneers, the National Rifle Association, the Harrisburg Amateur Radio Club (W3QN), the American Radio Relay League (ARRL), and a 40-year member of the Hershey Evangelical Free Church.
.
A celebration of his life will be held on Thursday, May 31st at 11:00am in the Auditorium of his church at 330 Hilltop Road, Hummelstown. Luncheon and visitation will follow the service at the church.
.
Private interment with military honors will be held at Indiantown Gap National Cemetery, Annville. In lieu of flowers, memorial contributions can be made to
www.bethesdamission.org
.
.
.
Published on Pennlive.com and in The Patriot-News on May 26, 2018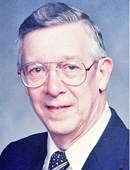 "Ham radio became an interest  of mine through the influence of my
 good friend and Elmer Sherd Doughman W3KNK, now deceased.





            First licensed as a tech with the call K3EQN in 1958 and eventually as an extra in 1993. 
Never a big DX chaser I did manage to work over 200 countries through the years.
My shack is modest ,housed on the second floor of our condo in a closet three and a half 
by eight feet. We have lived here for the past ten years.





            Equipment is a Alinco switching power supply, a Ten Tec Juipter,
An Icom IC2100 2 meter transceiver, an Astron 7 amp power supply for my Ten Tec QRP Arganaut V7.
My antennas are three dipoles for 40 20 and 17 meters located in the attic plus a J Pole for 2 meters.  





            After graduatng from high school I worked in the Bethlehem Steel Plant, in Bethlehem PA learning the machinest trade,
 I then was drafted and served three years in the Army in World War 2 in the European Theater !2th Arhmored Div. 
 After the service I worked 33 years for Bell of PA. in Outside Plant Engineering and Central Office Engineering.  





            I no longer pursue my hobbies of competive pistol shooting, skeet shooting, fly fishing and bird carving.   





            Age takes its toll." -

 W3QN - 2015-07-16 00:20:29 QRZ.com
---